About Chris Case Photography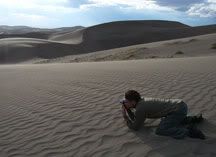 I am available for assignments throughout the United States. To see more of my work and follow my current projects:




chrisjustincase@gmail.com
512.809.7589 (m)
Based in Niwot, Colorado
---

VISION
I specialize in adventure, conservation, and landscape photography. Based in Colorado, I concentrate on themes central to the West, including water, wildlife, and wilderness. I am also a passionate cyclist and cycling photographer.

I am driven by the philosophy that the most powerful and compelling journalism operates on synchronous and synergistic channels: our aesthetic, intellect, and emotion. Observant and patient, my work reflects a passion for quiet beauty, graphic form, and intelligent simplicity.
---
BIOGRAPHY
Chris Case was born in Connecticut, and grew up exploring the coastal reserves and dense hardwood forests of southeastern New England. With his family, he climbed Mount Washington and roamed the Green and White Mountains of Vermont and New Hampshire. His formative years would seem to have lead him directly to a life of environmental concern, with a passion for conservation issues. But there would be an interesting detour.

After enrolling at Colgate University, in the fall of 1995, he felt destined for a career in neuroscience. Chris had always been an observant, introverted child, and this led to his fascination with the brain, cognition, intelligence, and, ultimately, clinical neuroscience and psychology. He began work in a neurophysiology lab a month after freshman orientation, and performed brain surgery on rats and mice for the next four years. His blinders were on.

And they remained on until he elected to take a basic studio art class in his junior year of college -- it happened to be the prerequisite to the photography class he hoped to take the following semester. Little did he know that the professor of that photography class would plant a seed that would ultimately lead him to run from neuroscience altogether. But it would be a number of years still.

After graduating, he worked for three years at the National Institute of Mental Health conducting research on patients with schizophrenia, in one of the world's largest multidisciplinary studies of the devastating disease.

After another year of research (in which he worked with the brains of monkeys in a model of Parkinson's disease), he could take it no longer. He enrolled in the graduate journalism program at the University of Texas at Austin and began his concentration in documentary photography.

After receiving his degree, he worked as a freelance daily-assignment photographer in the Denver metro area. He then served as the first creative director of the Bradford Washburn American Mountaineering Museum from 2006 to 2008.

From 2008 until 2012, he served as editor-in-chief and director of photography and design of Trail & Timberline, the magazine published by the Colorado Mountain Club since 1918. In the spring of 2012 he became the managing editor of Velo magazine, reporting on professional cycling around the globe.

As a photographer and writer, he has worked for newspapers, national magazines, and national conservation organizations.